Sticker workshop:
The aim of this workshop is to create a combination of stickers by arranging the stickers by colour and shapes in order to form an aesthetic object as a whole.  The sticker combination will then be applied on an ordinary household item.
Poster workshop:
During this street art workshop, pictures will be applied on posters before being fixed at walls and spread out over the city. Here the participants will be introduced into painting techniques and into the range of colours in order to place an effective artwork in the cityscape.
For registration please write a mail to italienzentrum@tu-dresden.de
Place:
Königsbrücker Str. 39, 01099 Dresden
Time:
10:00 – 16:00
The following artists will hold the workshops:  
Yuri aka Hopnn (from Cyrillic: Юрий), born in 1981 and living between Florence and Paris, grew up in Rome and attended the academy of arts. There he was co-founder of the gallery Laszlo Biro, which offers screen printing workshops and which prints graphics of the gallery artists. While living in Rome he was inspired to focus on bicycles, because of the huge traffic jams that are always related to Rome. His dreamy characters painted in white and red feature bikes as their core 'sacred' element. In association with Hogre he participated at the Illegal Art Expo in Florence where he reinterpreted a sequence of Bronzinos portraits of the Medici family members. This sequence was shown in a solo exhibition in the Rosai Studio, in the historical building of Via Toscanella, the educational centre of outstanding personalities like Leonardo or Brunelleschi. By this Hopnn is a great example for the connection of "classical" and street art, who doesn't want his art to be understood as antagonist of the art traditions of Florence. Besides of his artistic work he is also involved in spreading street art in schools, for example by means of workshops in painting interior and exterior school building walls in cooperation with the cooperative "il Cenacolo" in Florence. In addition to this, Hopnn offers classes in screen printing and street art techniques together with associations like "Fare Spazio" and "L'Appartamento".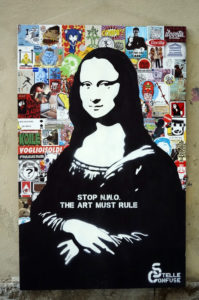 Stelleconfuse is a Florence based artist. He is one of the most active protagonists of sticker and stencil art in Italy. His aim is to transmit a message of hope and denounce grievances at the same time through symbols and logos. His project "Plant a Tree" was born in 2008 and later spread through stickers, posters and stencils around the world. The "Plant a Tree" project was created to remember the importance of green areas within cities and in order to sensitize people against overbuilding. The name Stelleconfuse is based on the world of Pop art, which aims to highlight the sense of unity and community that animates the sticker artists. During the last few years, Stelleconfuse has not remained confined in the single role of artist but he has also curated exhibitions and planned events.
The South American origin of the artist always influenced on his career and led him to look for elements and characters that are linked to nature, life and death. In 2002 he began as a writer, where he focused on calligraphy and developed his spray techniques. A journey through Italy affected his artistic work by means of the witnessed surroundings and the rich history of the country. During the last five years, Jamesboy tried out new materials as well as painting and sculpting techniques. He went from painting small walls in secondary roads to large house fronts and empty factories. Moreover, he organized exhibitions and participated in different projects with national and international artists. His artworks are not only in Florence but can also be found in cities like Rome, Barcelona, Siena or Bologna.